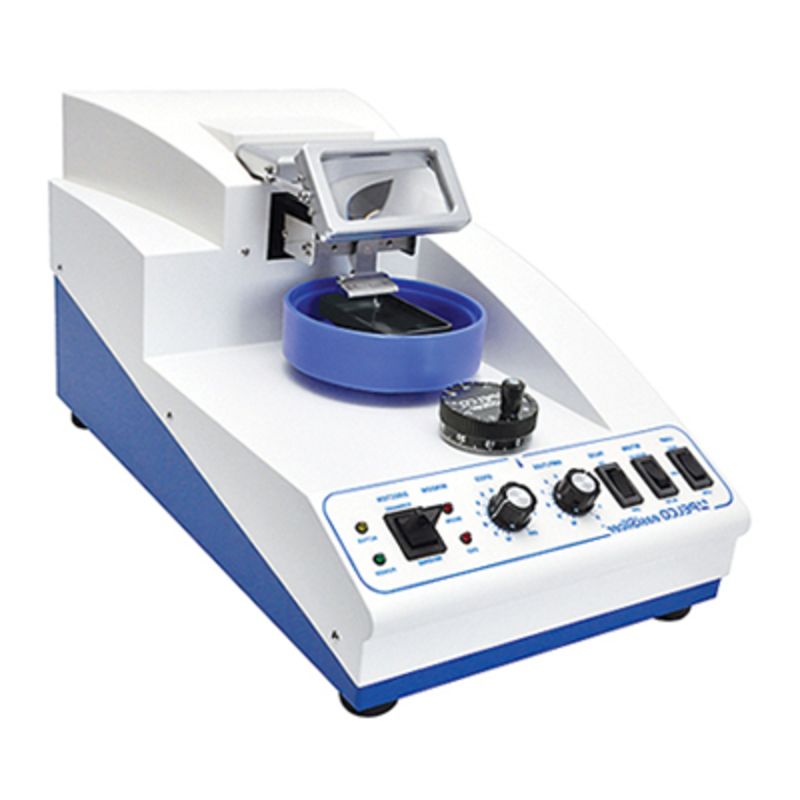 Vibratome tissue slicer PELCO easiSlicer
from Ted Pella
A vibratome uses a vibrating blade and not pressure to slice through tissue. This method causes little mechanical strain which enables the use of untreated (unembedded) samples. The PELCO easiSlicer combines easy handling with precision technology in an unrivaled, sophisticated tissue slicing instrument.
Features
Made for minimal z-axis vibration
Maximum specimen dimensions: 40 x 40 x 15 mm (w x d x h)
Removable blade holder (15° angle)
Minimum height adjustment 1 μm
The PELCO easiSlicer introduces the new standard in vibratory slicing. It combines ease-of-operation, precise engineering and affordable pricing in one sophisticated instrument. The PELCO easiSlicer's rigid construction and advanced engineering technology essentially eliminates backlash thus featuring minimal Z-axis vibration. All operational controls are sealed against moisture and located on the front of the instrument. A set of strong magnets safely holds the specimen tray in the polypropylene bath. The bath is locked onto the instrument from the side with a unique spring-loaded base. Both bath and tray are moved as a unit to ease sectioning thickness and height adjustments. However, bath and tray can easily be separated. This allows easy cleaning and eliminates the risk of leaks.
The amplitude and speed controls are conveniently mounted in the center of the control panel. To accommodate a wide range of applications and eliminate the need for blade angle calibration, the sturdy, removable blade holder is offered in 3 different angles: 15°, 18° and 21°. The specialized blade holder design ensures a secure and rigid grasp of the cutting blade and eliminates the weakening or bending of parts often experienced in spring clamp setups. We recommend using blades by Feather but the holder will also accommodate other types of blades. Indicator lights on the control panel guide the user to ensure placement consistency and precise cutting window control.
The magnifier and light assembly offers bright white LED lighting (no risk of high temperatures) with high or low settings, depending on the user's need. The magnifier can be moved out of the viewing path, if desired. The entire assembly operates smoothly on metal slides.
The large section thickness knob is located in the center of the work area. The knob is labeled in microns. Every five microns, it has a perceptible detent. One complete revolution of the knob equals 100 microns. The section thickness knob raises and lowers the entire bath and tray assembly. The PELCO easiSlicer has a return switch that allows the option for auto return after each slice. In the manual return mode, the cutting will cease once the end of the section window has been reached. This way, the specimen can be retracted before the return of the blade to prevent damage.
The PELCO easiSlicer comes equipped with all necessary tools and supplies to start cutting high-quality, consistent sections right out of the box.
PELCO easiSlicer
Maximum specimen size
40 x 40 mm (1.58 "x 1.58")
Maximum specimen height
15 mm (0.6")
Specimen bath
Polypropylene
Specimen tray
Rectangular with magnet release
Blade
Razor blades (FEATHER® recommended)
Blade angle
15° standard; 18° and 21° optionally available
Sectioning window
10 - 40 mm (0.4"- 1.58")
Height adjustment (z-axis)
15 mm (0.59 ") total travel in 1 μm increments; click stops every 5 µm
Cutting travel time (y-axis)
Forward: 0 – 2.0 mm/sec (0 – 0.08"/sec)
Reverse: 5 mm/sec (0.2 "/sec)
Maximum travel: 40 mm (1.58 ")
Vibratory amplitude (x-axis)
0 – 1.0 mm (0.04"); continuously variable
Cutting arm frequency
50 Hz±5 factory set
Magnification
2x magnifier
Illumination
LED illumination; LOW / OFF / HIGH
Dimensions
535 x 300 x 290 mm (21.1"x 11.8" x 11.4")
Weight
16.8 kg
Technical requirements
100 – 240 V; 50/60 Hz; 345VA
Product Manager - Electron microscopy & nanotechnology
Dr. Andreas Bergner
Contact
Quantum Design GmbH
Im Tiefen See 58
64293 Darmstadt
Germany