X-ray optics
from SIGRAY
Sigray is offering dedicated x-ray optics for experiments at a synchrotron beamline or for the work with a laboratory based x-ray system.
Customized synchrotron paraboloidal x-ray mirror lens for high resolution experiments
High resolution with <0.2 - 5 µm spot size
Large numerical aperture (enabling 4X higher flux at the sample than a KB mirror)
High efficiency
Achromatic focusing, ideal for microbeam applications requiring energy tunability such as x-ray absorption spectroscopy
Flexibility in beamline design: a small form factor enables up to 4 optics to be used within the same beamline, with each optic designed for a different energy, resolution, etc.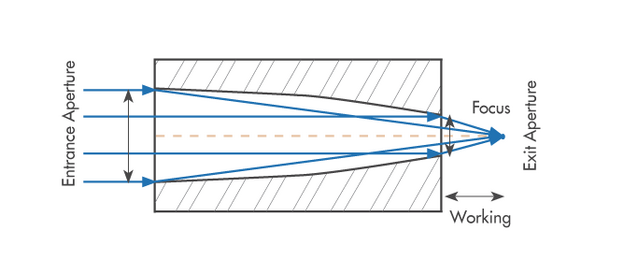 Paraboloidal mirror lens configured to focus x-rays
Sigray has developed a new design for x-ray lenses that has numerous advantages compared to polycap or monocap lens designs.
Intense flux at the sample, due to a combination of: small point spread function, high transmission efficiency (~80%) and large numerical aperture of the optics
Highest resolution (<8 µm) spot of any laboratory x-ray optic available
Spot size is round and symmetric with minimal tails
Most accurate analytical capabilities for microanalysis due to achromatic focal spot and pencil beam focusing
Large working distances (up to 50 mm) for maximal experimental flexibility for a wide range of sample types
Compact form factor further enables detector placement for large solid angle of collection
Standard specifications for Sigray´s synchrotron optics
Type: Achromatic paraboloidal x-ray mirror lens
Spot Size: <0.2 to <10 µm (dependent on working distance and energy)
Reflecting Surface: Coated with platinum (other materials upon request)
Energy Range: 0.1-60 keV
Angular Range: ~3X critical angle of glass
Strehl Ratio: 75%
Working Distance: 2 mm to 10 cm, depending on desired resolution and application

Standard specifications for Sigray´s twin paraboloidal x-ray mirror lens
Spot Size: <8 µm
Reflective Surface: Coated with Pt. Other coatings available upon request.
Working distance: 10-100 mm. Depends on desired application and can be modified.
Transmission Efficiency: ~80%
Focus Chromaticity: Achromatic
Spectral Bandpass: Wide with a high energy cut-off
Applications: Optimal for coupling to high brightness microfocus x-ray sources
Normalized Phase Space Acceptance: 3 (assuming a normalized value of 1 for polycapillaries)
Synchrotron Beamline performance improvements
Energy
Applications
Sigray advantage over other approaches
< 3 keV
Ptychography (0.2 - 3 keV)
ARPES (0.5 - 2 keV)
PEEM (0.1 - 3 keV)
High NA & efficiency for soft x-rays, larger working distance than zoneplates, and achromatic
< 20 keV
TXM (0.3 - 20 keV)
Customer-specific design
Achromatic, high efficiency
2-60 keV
µXRF (2 - 30 keV)
µXRD (5 - 60 keV)
XAFS (2 -20 keV)
Super Confocal **

High flux, high efficieny, compact form factor, and more reasonable working distance than KB mirror

** Super confocal options available upon request for <5 µm resolution (configuration uses a twin paraboloidal lens scheme with multiple advantages over polycapilarry optics)
A turret of multiple optics can be used within the same beamline, allowing access to one or more of the above techniques (e.g. ARPES, confocal, etc.)
Laboratory based x-ray performance improvements:
Focusing x-ray microanalysis (e.g. microXRF, microXRD, protein crystallography)
Collimated x-ray or parallel beam techniques (e.g. SAXS)
Line focus (e.g. GISAXS, GIXRD, TXRF, etc.)
Contact
Quantum Design
Krivoklatska 37
199 00 Praha 9
Czech Republic