Datalogging optometer
ILT1000 from International Light Technologies
The ILT1000 is a broad and versatile UV, VIS and IR datalogging optometer with NIST-traceable ISO 17025 ccredited calibrations. System configurations are based on the industry standard ILT1700 research radiometer/photometer detectors, filter/optics and calibrations. The ILT1000 was designed with OEM and custom configurations in mind and can easily accommodate most solid state detectors, 1/2" and 1" optical filters and a vast selection of input optics.
The ILT1000 is capable of measuring over six decades of light intensity and providing direct readout in W, W/cm², Lux, Fc, Lumens, cd/m², cd, W/sr, W/sr/cm² and more. On board data storage allows continuous monitoring at customer specified sampling rates using the "set it and forget it" datalogging.
Features
Wired and wireless versions available
Ideal for performing multi-point, wireless, remote light monitoring and data logging
"Set it & forget it" remote data logging with onboard data storage
4 open licensed, customer-configurable software options
4-20 mA output
Software
The ILT1000 comes with DataLight II software, a complementary basic Labview DLL and 5 versions of software including: CLI, BAR, TREND, DATALOG and the ALL NEW METERS app which is designed to cover a wide range of applications.
Meters
Designed to maintain the look and feel of the Industry Standard ILT1700 Research Radiometer. Designed for wireless use with Windows 8 tablets and touch screen computers, the larger, user-friendly panel includes buttons for hold, zero, integrate, factor, range, average and units selection.
Trend
Records all six parameters while displaying the trend over time for the user switchable parameter. Multiple examples of trend can be run simultaneously to allow multi-unit comparisons. Trend also has a user-friendly calibration feature.
Bar
Allows multisystem, datalogging and displays the user switchable parameter in a bar graph. The expandable graph can accommodate up to 32 systems simultaneously with use of hub(s). User can enter nicknames for each unit to define the location, application, version, serial number, etc. Customer can program max and min warning levels and use color coded bar responses for easy troubleshooting.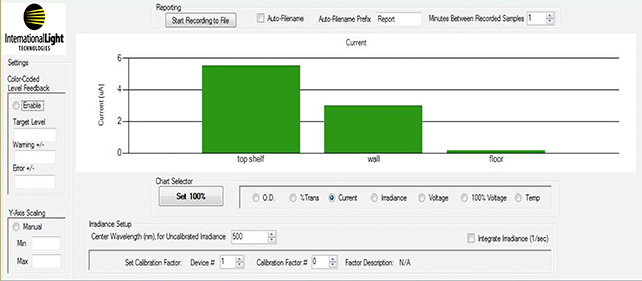 CLI
CLI is a very basic command line interface program that allows customer to type commands from the API and record readings into the device memory.
Datalog
Datalog is a user interface that allows remote "set it and forget it" datalogging.
All software is provided with an open source (MIT) license for ease of customization. A full version API is also available.
Six decades of light sensitivity
Optical density
0.00 to 4.00 optical density
Optical density repeatability
(single) ± 1%, (multiple) ± 2.5%
Operating temperature
-40 to 85°C (calibrated irradiance
0-50 °C)
USB
USB2 including power, for single and multiple systems
USB current draw
200 mA max, 130 mA typical
API
Simple, well documented API for custom programming
Size
76.2 x 76.2 x 25.4 mm (3" x 3" x 1") without filters and input optics
Weight
173 g (less than 0.5 lbs)
Drinking and pool water disinfection
Municipal water/wastewater disinfection
Contact
Quantum Design GmbH
Roddarestigen 3
SE 182 35 Danderyd
Sweden