High-throughput bright field and fluorescence scanner
Cell³iMager duos from SCREEN
Cell3iMagers Duos is a benchtop imager capable of high-throughput, whole-well imaging at high-resolution, and provides both bright-field and fluorescence imaging options. It can be used as a valuable tool in several drug discovery and development applications as well as toxicology testing to select therapeutic targets and treatment strategies before costly and tedious testing in animal models. Cell3iMagers Duos facilitate uniform, whole-well imaging of each and every cell in a well, including well periphery, at high-resolutions. Duos proprietary lens captures images at two different resolutions, 0.8 µm & 4.0 µm, thus enable qualitative and quantitative measurement of single cells and colonies grown in 2D culture as well as growth and morphological changes of spheroids/organoids grown in 3D culture. Duos automatic cell morphological classification (ACMC) feature allows 'intelligent' automatic classification of live and dead spheroids/cells, using logic derived from a user-defined reference set of respective objects.
Features
2D and 3D cellular high-resolution imaging
Uniform analysis of whole well without any edge effects
Compatible with both adherent and suspension cultures
Multi-channel fluorescence mode available
Powerful intuitive image analysis software
High-speed scanning for whole well
Duos unique LED-strobe light based optical system along with its 4.2 megapixel area sensor ensures nonstop imaging continuously and automatically. At high-speed mode duos rapidly images nearly all types of microplates without any plate movement, ensuring no sample agitation or image blurring even for the suspension cells. As for the focus setting, duos focus adjustment mechanism can maintain the focus and automatically adjust it to suit the type and thickness of the sample being worked, thus help researchers meet their requirements.
Intelligent Automatic Cell Morphological Classification (ACMC)
It's difficult to judge viable and dead cells accurately by simple measurement and analysis settings in all cases. Cell3iMager duos is equipped with ACMC to ensure highly accurate classification of spheroids/organoids in bright-field. Such classification is executed by dozens of (about 110) feature quantities extracted from a user-defined reference set of high-definition live/dead spheroid images in the learning process.
Z-stacking of 3D cellular structures
Duos provide a unique focus bracketing option (similar to 'Z' stacking) which enables high quality analysis of spheroids in hanging droplet assays or embedded in hydrogel systems, which otherwise can't be adequately captured. Focus bracketing acquires images over multiple focal planes/slices to obtain a multi-layered image. With duos, up to 50 slices can be captured to acquire all important details of the spheroids or organoids. Duos composite function offer great flexibility to combine/quantify mass of cells spread in the 'Z'-direction into a single information loaded image.
Fluorescence imaging
Cell3iMager duos has fluorescence imaging capability. It comes with 5 fluorescence channels and is compatible with a variety of dyes to meet a wide range of image based screening applications. Duos powerful software can accurately merge fluorescence images with bright-field images. Under fluorescence mode cells can be identified and quantified based on morphology as well as fluorescence intensity. Duos colour camera can acquire multi-fluorescence images at a time and quantify the intensity of each colour efficiently (e.g. combination of GFP and PI). It can be used as a valuable tool in several drug discovery and development applications.
Phenotypic drug discovery
Co-culture: loss of spheroid volume
Combinatorial drug testing
Drug-target discovery and validation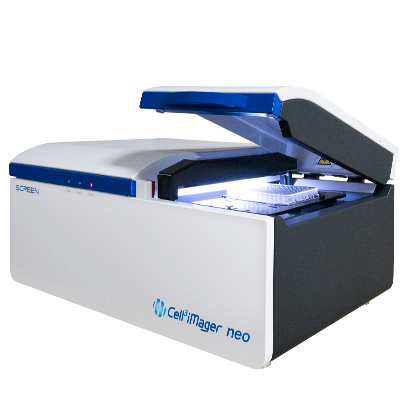 High-throughput bright-field scanner
SCREEN Cell3iMagers are bright field scanners designed specifically to simplify and accelerate quantitative and qualitative measurement of 3D spheroids. This unique LED-based imaging system allows the ...
Optical coherence tomography system
Cell3iMager Estier is a benchtop, optical coherence tomography (OCT) instrument for label-free, non-invasive and real-time cross sectional (2D) and volumetric (3D) images of biological samples. The ...
Contact
Quantum Design GmbH
Roddarestigen 3
SE 182 35 Danderyd
Sweden