High-throughput bright-field scanner
Cell³iMager Neo from SCREEN
SCREEN Cell3iMagers are bright field scanners designed specifically to simplify and accelerate quantitative and qualitative measurement of 3D spheroids. This unique LED-based imaging system allows the user to identify and measure single or multiple spheroids per well in a microplate rapidly and automatically. The companion 3D optimized analysis software allows faster image capture, measurement and data analysis, and is compatible with all major 3D cell culture platforms. To fit varying budgets and throughput needs, the imager is available in two models: the single-plate Cell3iMager Neo (cc-3000) or the four-plate Cell3iMager (cc-5000).
Features
LED-based imaging system
Rapid scan time up to 30 × 384-well plates/hour
Preset plate definitions for all major cell culture platforms
Comprehensive 2D and 3D image analysis software
High-resolution spheroid scanning meets high-throughput demands
Imaging spheroids using conventional or even automated microscopes is a slow, low throughput process. High content imaging systems overcome some of these throughput issues, but are comparatively expensive, and still suffer from slow image capture/processing, and image analysis software not optimized for 3D spheroids. The Cell3iMager overcomes these limitations, featuring high-resolution scanning (up to 9600 dpi) without compromising scan time. This minimizes 'out of incubator' time to avoid jeopardizing cell health during analysis. The powerful automated measurement and analysis software eliminates cumbersome manual morphological measurements and improves data reproducibility. Simply scan, measure, and analyze.
Label-free detection enables faster processing with fewer processes
Although adaptable to higher throughput plate readers, biochemical assays that monitor viability (e.g., ATP content) can effectively correlate to spheroid size, but are often lytic or otherwise destructive in nature, requiring multiple replicates to be run for longitudinal studies. Label-free measurement of changes in 3D microtissue size and morphology using the Cell3iMager enables efficient assessment of phenotypic endpoints without disrupting microtissue growth, and can be used to focus selection of therapeutic targets and treatment strategies before costly and tedious testing in animal models.
Powerful 3D software handles routine and complex workflows
Fast, high-resolution bright field optics and image capture are only half of the Cell3iMager package. Scanning more plates faster means more data to analyze, and the Cell3iMager's intelligent software provides the power needed to keep up. The software reports key spheroid growth and morphological parameters, including spheroid number, size, shape, and growth kinetics over time. Basic scanning setup parameters are included, and intelligent object identification settings can be customized and saved for repeated use to ensure accuracy and reproducibility within and between experiments. Growth curves and histograms are generated and can be copy/pasted directly, or raw data can be exported as CSV files for import into statistical and graphing software.
Phenotypic drug discovery
Co-culture: loss of spheroid volume
Combinatorial drug testing
Drug-target discovery and validation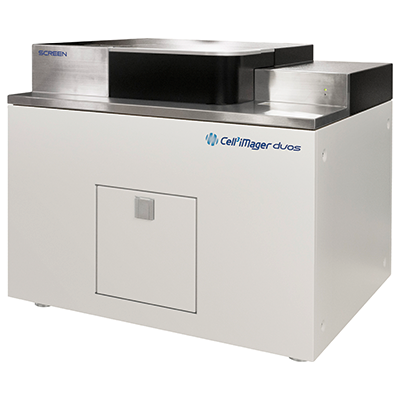 High-throughput bright field and fluorescence scanner
Cell3iMagers Duos is a benchtop imager capable of high-throughput, whole-well imaging at high-resolution, and provides both bright-field and fluorescence imaging options. It can be used as a valuable ...
Optical coherence tomography system
Cell3iMager Estier is a benchtop, optical coherence tomography (OCT) instrument for label-free, non-invasive and real-time cross sectional (2D) and volumetric (3D) images of biological samples. The ...
Contact
Quantum Design GmbH
Roddarestigen 3
SE 182 35 Danderyd
Sweden