Shamrock 193i spectrograph with iDus CCD and Newton EMCCD detectors
Andor Technology's highly popular and successful Czerny-Turner spectrograph family Shamrock has a new member: the "little" Shamrock 193i.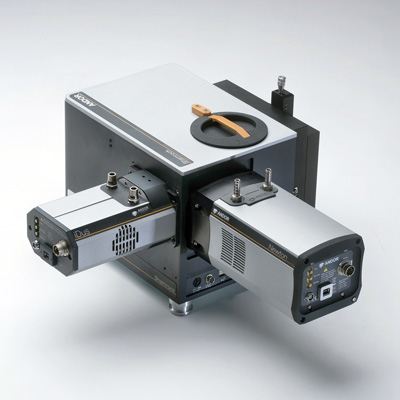 Shamrock 193i features:
193 mm focal length
Fast F/3.6 aperture
Very high spectral resolution (0.14 nm with 1200 l/mm grating)
Automatic focus (active focus technology)
Astigmatism-corrected optical imaging
Outstanding multi-track and imaging properties
Motorized dual grating turret
Quick and easy turret exchange by RFID technology
Choice of one or two detector output ports
Silver-coated mirrors and gratings for high sensitivity in the NIR and SWIR
Compact and robust design
Comprehensive accessories
USB interface
Comes preset and spectrally calibrated
Compatible with all Andor CCD, EMCCD, ICCD and InGaAs detectors for measurements from the VUV to the NIR/SWIR
Connection facilities for microscopes
Intuitive control with Andor's spectroscopy software Solis
Compatible with proprietary programs with software development kits for Windows, Linux or Matlab
Integration in µManager software
Shamrock 193i is a perfect addition to the motorized Shamrock spectrographs 303i, 500i and 750. Despite its short focal length of only 193 mm, it features an excellent spectral resolution of 0.14 nm (1200 l/mm grating, 13.5 µm pixel sensor) perfectly suitable for a variety of spectroscopic applications. With an aperture of F/3.6, Shamrock 193i is faster and more sensitive than its bigger brothers. With a motorized dual grating turret, connection facilities for two detectors and a vast amount of accessories, Shamrock 193i is a highly flexible and powerful spectrograph for both everyday routine measurements and sophisticated scientific fundamental research in areas like
Fluorescence and luminescence spectroscopy
Raman spectroscopy
Plasma spectroscopy and laser-induced breakdown spectroscopy (LIBS)
Time-resolved spectroscopy
Micro-spectroscopy
Absorption, transmission and reflectance spectroscopy
We believe that the Shamrock 193i will soon become a popular spectroscopy solution for all looking for an outstanding price/performance ratio.