NEW: ILT950 UV – a cost effective, low footprint spectroradiometer with improved sensitivity in the UV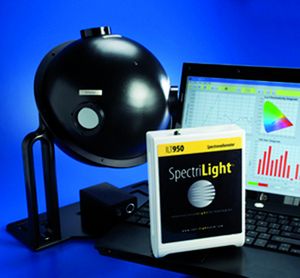 The excellent performance of the original ILT950 spectroradiometer has been improved even further with the addition of a new machined optical bench for reduced stray light and improved thermal stability.
The new improved CCD array results in nearly 50 % more sensitivity over the entire spectral re­gion, and significantly higher S/N ra­tio (increased from 200:1 to 300:1) due to a larger quantum well depth. Com­bined with all new software features (such as PAR units and baseline over­lay comparisons) the ILT950 UV con­tinues to be one of the most popular low cost spectroradiometers available on the market.
The ILT950 UV is equally at home on the production floor as well as the laboratory combining high performance, accuracy, ease of use, and a wide array of features all in a rugged, compact, portable design.


Specifications:

200 - 450 nm spectral range
1 nm resolution (50 micron slit)
< 0.3 % stray light
USB powered
Symmetrical Czerny-Turner design, 75 mm focal length
Dual calibration for higher accuracy (Deuterium and QTH)

Typical applications include:

Characterisation of solar simulation
Accelerated weathering
Photostability testing
UV curing systems
Photobiology and photochemistry
LED illumination and colour analysis