Digital microscope and scanner M8 from PreciPoint for Benelux and Germany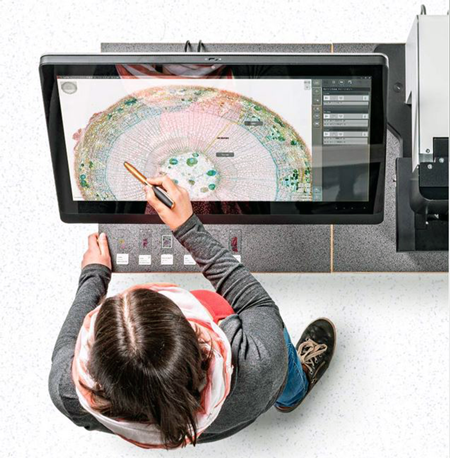 M8 is a fully automatic and digital transmitted light microscope with 3 different modes – microscope, slides can and synthetic. It thus combines a variety of features in one handy device at an unmatched price/performance ratio. The digital transmitted light microscope M8 is best suited for the analysis, digitization and scanning of dyed samples. It is mainly used in life science, medicine and education. Typical research areas are histology, anatomy, cytology, botany, pathology and many more.
Features
Transmitted light microscope and scanner incl. overview camera
1-350x zoom, no changing of objective necessary thanks to live- stitching
Overview camera incl. bar code recognition
Supported objectives: 10x, 20x, 40x, 60x and 100x
Automated x-y stage for up to 2 slides (50 mm x 75 mm)
Automated z-axis with z-stacking
The core of the digital microscope M8 is a fully automated control in combination with revolutionary easy-to-use software.
The unique live-stiching function provides images of 50 - 100 pictures at maximum objective resolution in only seconds.
M8 offers three different application modes.
The microscope mode works just like a digital transmitted light microscope but features fully automatic control.
Synthetic and scanner mode use live-stitching. In synthetic mode, parts of the sample can be viewed at the maximum objective's resolution. The scanning mode allows the microscopic imaging and digitization of full slides.
M8 thus combines microscopy and scanning technology in one handy instrument.
More about the digital microscope and scanner M8