Kymera 328i – a mythical creature turns real
"Lion-fronted and snake behind, a goat in the middle and snorting out the breath of the terrible flame of bright fire." This is how Homer described the mythical chimera in the Iliad.
Andor Technology, our long time partner for cameras and spectrographs for sophisticated measurement tasks, now presents a magnificent spectrograph with unimagined flexibility as successor to the already strong Shamrock 303i: Kymera-328i.
Its outstanding features are
Grating turret for up to four gratings for maximum flexibility
Up to two entrance and exit ports for complex experiments with multiple light paths
Patented Adaptive Focus Technology for perfect resolution at any wavelength
TruRes option improves spectral resolution by more than 30%
Astigmatism-corrected optics for the simultaneous detection of multiple spectra and imaging spectroscopy
Focal length: 328 mm
Shutter: 4.1
Resolution: 0.1 nm to 0.07 nm with 1200 lines/mm grating
Perfectly suited for microspectroscopy
The new grating turret design provides enhanced flexibility by four gratings that guarantee maximum transmission through on-axis configuration.
It also optimizes resolution, bandwidth and grating efficiency for various spectral ranges from UV to NIR. Further turrets are automatically recognized to the spectrograph and software by RFID transponders.
Kymera-328i comes in all combinations with one or two input and exit ports.
This facilitates two different, even complex, experiments and the use of various detectors like CCD, EMCCD, ICCD, sCMOS and InGaAs cameras. One of the exit ports can be furnished with a slit to turn the spectrograph into a monochromator with photodiode or photomultiplier.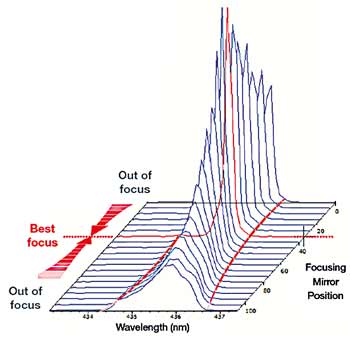 Patented "Adaptive Focus Technology" uses a motorized main mirror to ensure optimum focusing of the spectrum for each grating and wavelength with a click of the mouse.
A focal length of 328 mm and an outstanding imaging optic facilitates a typical spectral resolution of 0.1 nm with a grating of 1200 lines/mm and a CCD detector with a 13.5 µm pixel size.

TruRes allows to increase the resolution to <0.07 nm. With its iris diapraghm, TruRes is a real optical enhancement of the spectral resolution. Depending on the shutter diameter, the resolution improves by over 30% as off-axis beams are suppressed at small apertures. Spectral lines that are very close together can thus be separated more easily and/or be resolved at all.
Furthermore, TruRes prevents aberrations at the edges of the focusing area at the exit port. This way, more spectra can be detected at the same time.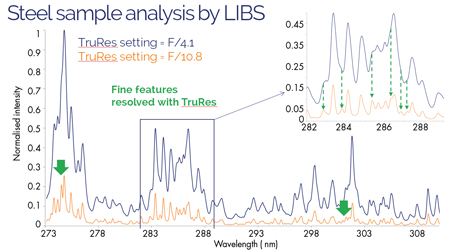 Like the Shamrock-303i, the astigmatism-corrected imaging optic with toroidal mirror facilitates Kymera-328i with a spatial resolution along the axis of the entrance slit.
This enables the simultaneous imaging of multiple spectra as well as imaging spectroscopy - so-called hyperspectral imaging.
Visit our website to receive data sheets on our Andor spectrograph range or browse through application notes from our satisfied customers.
Feel free to contact us if you have any questions or would like a quotation or want to see our demo system "in action".