NMR relaxometry – Easy determination of oil and fat contents in foodstuffs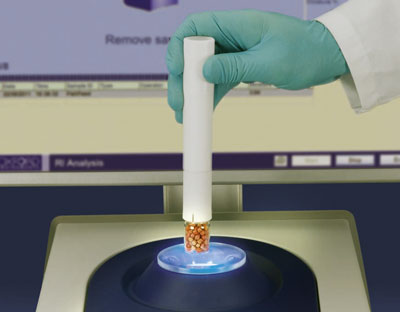 Have you ever wondered how the fat content of potato chips, chocolate and cheese can be determined? A wide-spread method is the so-called Soxhlet process. Measurement values gained from this method (when applied correctly) are highly precise which makes it the method of choice for industrial analyses. However, it requires a fully equipped chemical laboratory, specialized staff and a wide range of necessary chemicals. Furthermore, a typical analysis takes about two to three hours, which makes it even less suitable for the use in product control.
An alternative method is nuclear magnetic resonance (NMR) relaxometry. It neither requires a special laboratory nor particular expertise. The NMR system is easy to use, nearly maintenance-free and works without solvents or other chemicals. Measurements take less than 60 seconds, which makes it perfectly suited for the use in production environments. NMR complies with official standards (ISO, AOCS und IUPAC) and follows a detailed measurement protocol.
MQC, the NMR relaxometry system from Oxford Instruments, is extremely robust and has an extraordinary lifetime. Some of the systems have been running for more than 10 years.
Typical applications include:
Determination of oil content in dried snack foods (e. g. potato chips)
Determination of oil and fat contents in foodstuffs (e. g. dried cheese, milk powder)
Determination of fat content in chocolate
Determination of fat content in edible oils, margarines etc. (Solid Fat Content; SFC)
Determination of oil and water contents in seeds (e. g. canola, sunflower)
Contact us to find out if NMR relaxometry is a suitable tool for your application.
More about NMR spectrographs