Magnetic hyperthermia – Magnetism meets biology and medicine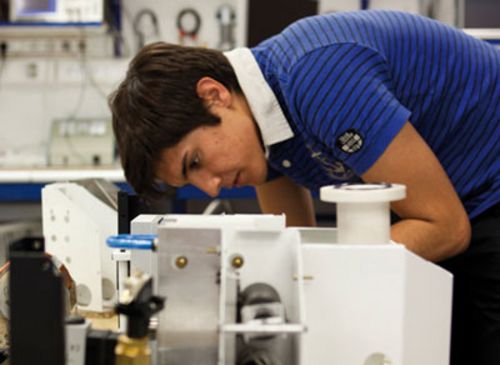 The International Conference on the Scientific and Clinical Applications of Magnetic Carriers took place in Dresden in June of this year.
At the conference, we presented the hyperthermia system manufactured by Nanoscale Biomagnetics, which was received with great interest.
Hyperthermia is a medical term. It describes overheating of the whole body or local body areas. Artificially generated overheating (therapeutic hyperthermia) of body tissue is for example used in cancer treatment.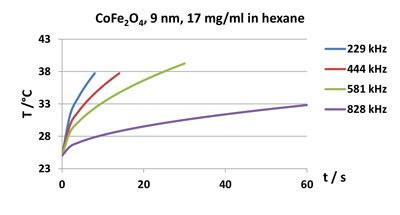 Recently, magnetic hyperthermia as a special type of hyperthermia, has found its way into the medical field. It looks as if this type of temperature elevation has certain advantages.
So what exactly is magnetic hyperthermia?
In magnetic hyperthermia, magnetic nanoparticles (for example of ferroxide or cobalt oxide) are exposed to an alternating magnetic field.
The nanoparticles convert the field energy in heat. At least in theory, because there are many experiments that show that the necrosis of certain cells, takes place even without a significant temperature elevation.
The mechanisms behind this have not yet been fully understood.
Nevertheless, the idea of the targeted and selective killing of cells is of great interest to biologists and physicians alike. The DM100 hyperthermia system is a plugandplay solution for a variety of different applications.
With this system, you can measure your samples quickly and easily without having to take care of the apparatus itself. DM100 takes care of all field parameter settings and the measurement of the sample temperature.
It's design boasts a range of helpful details like the optical fiber for temperature measurements or the special coil design which guarantees a particularly homogeneous field.
Customer quote:
"We have a DM100 in our laboratory. Its fullyprogrammable measuring setup allows us to have a full characterization of samples in a singleshot experiment. With the data from this system we receive new insights into the mechanism of magnetic hyperthermia of nanoparticles and were able to publish several papers."
Dr. Gerardo F. Goya Rossetti, Instituto de Nanociencia de Aragón (INA), Universidad de Zaragoza
More information on DM100 series