Opto-Alignment laser alignment systems –
Easy optical measurements of precision optics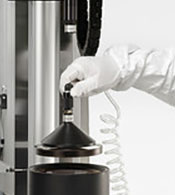 We now offer a laser alignment and assembly station (LAS) that allows a sub-micron determination of lens centration and tilt. LAS consists of a laser source, a rotating sample holder and detector unit.
The lens or optic is measured in re­flection.
Besides unparalleled hardware performance, LAS features user-friendly CalcuLens software for easy handling of the system and simple data analysis.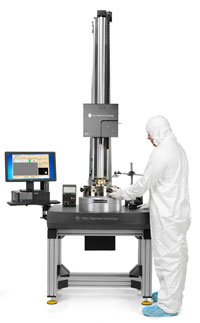 The system can be used in a broad spectral range from the deep UV to the longwave infrared, which makes it perfectly suitable for a great variety of applications. Typical materials analyzed with LAS are optical crown, flint or fused silica.
Crystals and more exotic materials like magnesium and calcium fluoride or germanium are also possible. Apart from complex, multi-spectral align­­ment systems, we offer benchtop systems for high throughput and small budgets.
Specifications
Laser reflection, assembly and inspection
Laser wavelengths
532 nm; 650 nm; 1.55 µm, 2.94 µm; 10.6 µm
Resolution
To 0.1 µm TIR
Curvature radius ± 2 mm to ∞ with one objective
Confocal and normal reflection
Interferometric distance measurements to determine lens center thickness and air gaps
Z-height accuracy
1.0 µm
Scanning range
200 mm
Working distance
400 mm
Laser source
1.31 µm
More about optical lens alignment and measurement stations for precision optics