Specim IQ – Hyperspectral camera "To go"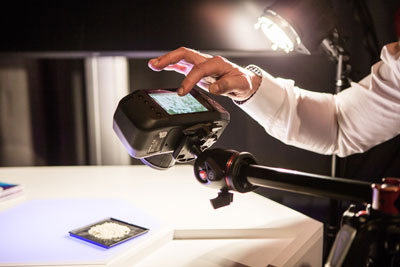 With Specim IQ – the first portable all-in-one hyperspectral imaging camera on the market, hyperspectral imaging can finally be established as standard measurement technology in science and industry.
Specim IQ is also the first camera that allows fast analyses at whatever location within the setup. At the same time, it provides the high data quality you expect from Specim hyperspectral imaging solutions. Our "camera to go" has all the features necessary for ad hoc measurements at various locations – finally, the camera is brought to the sample and not vice versa.
Our Specim IQ hyperspectral camera consists of three modules in one handy housing. It features wavelengths in the VIS/NIR range (400 nm-1000 nm) and includes optics, a built-in spectrograph for spatial resolution, a module for automatic focus and a 5 megapixel viewfinder that allows an overlay of the spectral with the actual images.
The system boasts more practical features: high light sensitivity so that external lighting is unnecessary and an outstanding spectral resolution of 7 nm over 200 spectral bands which surpasses all other multispectral cameras on the market. A high spatial resolution of 512 discrete pixels and its robust housing (that follows IP standard 53) allow the camera to be used in all kinds of settings: laboratory, factory and in the field. With only 1.3 kg, the Specim IQ is extremely light and portable.
Integrated control and data processing software makes it the perfect tool for researchers as well. The software allows full spectral analysis and classification. Both takes place directly inside the Specim IQ camera. The classification scheme can then immediately be applied as good/bad decision. Decision making thus becomes fast and easy.
With the additional software package Specim IQ Studio you can load up images and data offline or program applications for your specific needs.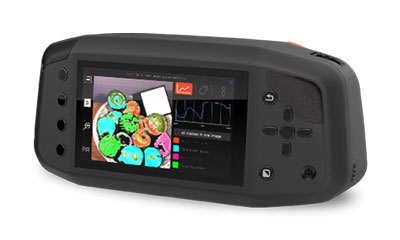 The Specim IQ hyperspectral imaging camera has a built-in 4.3″ touchscreen display and runs on both batteries and USB interface – depending on your requirements. Data can be stored on the supplied SD card.
This portable hyperspectral imaging camera is available where and when you need it. Complicated setups are no longer necessary. Decisions can thus be made quickly without any compromises in data quality.
Contact us for further information – we look forward to your message!