Motorized filter wheel
from Andover
These filter wheels are used for a host of applications, including color CCD photography, fluorescence microscopy, and photometry. Two 4" dia, wheels are available: one which accepts six 25mm filters, and one which accepts twelve 12.5mm filters.
Features
Motorized or Manual
Local or Remote Control
Accepts 12.5 mm and 25 mm diameter filters
Labeled filter positions
Base and post mountable
General Specifications
Serial
RS-232
USB
USB 2.0
Manual
Push button switches
Mounting
1/4-20 & #8-32 (M6 & M4)
Size
5.0" x 4.49" x 1.85"
Programming and Remote Control
Automation of filter sequences is available through the serial interface. A simple command language facilitates retrieving filter status and making filter selections. LabVIEW software is included, and consists of a stand-alone user interface as well as a drive which can be incorporated into your own software. The unit comes with the controller, filter housing, filter wheel, and a 5 VDC power supply, and threaded rings to hold the optics in place.
Remote or Manual Operation
Filter selection can be made manually from push buttons on the unit, or remotely from either a USB 2.0 or RS-232 interface.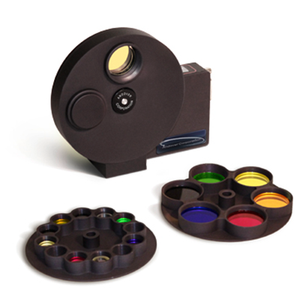 Interchangeable Filter Wheels
The 4" dia. wheel is easily changed, allowing quick conversions between applications. Additional wheels are available.
Motorized Filter Wheel
Size & Part Number
Descripton
12-Position / 12.5 mm
6-Position / 25 mm
Motorized filter wheel
FW-MOT-12.5
FW-MOT-25
Extra wheel only
FW-12.5
FW-25
Manual Filter Wheel
Size & Part Number
Description
12-Position / 12.5 mm
6-Position / 25 mm
Manual filter wheel
FW-MAN-12.5
FW-MAN-25
Contact
Quantum Design
Krivoklatska 37
199 00 Praha 9
Czech Republic