Temperature controller
from Andover
The performance of very narrow bandwidth interference filters can suffer significantly due to changes in ambient temperature or aging effects. Elevating the filter temperature can counterbalance aging shifts of up to 0.5nm and also provide a means of tuning the center wavelength to an exact value. As all our filters are bake stabilized to minimize any wavelength shifts with age, the regulated temperature controller provides protection against the influences of fluctuating ambient temperatures.
All of our filter ovens come with a universal oven controller, which will operate from 110 to 220 volts, 50-60 Hz and include plugs for US, UK, Australia and Europe.
Shipped in a sturdy, reusable weatherproof case.
Features
Provides added control over ambient temperatures
Effective for conducting outdoor experiments
Custom sizes and temperature ranges also available
General Specifications
Regulation Accuracy
+/-0.25 °C
Ambient Temperature Range
0-30 °C
Min. Regulated Temperature
30 °C
Max. Regulated Temperature
60 °C
Power Requirements
110-220VAC
50-60 Hz, 1.0 A
Filter Size
50 mm Diameter
Custom adapters for smaller sizes available at a nominal charge
Cable Length
3'
Custom cable lengths are available upon request
Our temperature controllers are subjected to a 120 hour stability test.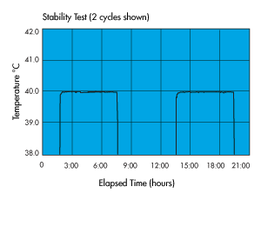 Ordering
To ensure you have the appropriate filter oven and controller that best suit your specifications, please follow step 1 and step 2.
Step 1
Select filter oven and controller quantities
Filter Oven Controller
Part Number
Filter Oven
101FRDC00-50
Oven Controller
101FRDC00-CTRL
The oven controller is required to operate the filter oven. For economic reasons, it may be desirable to purchase several filter ovens but fewer controllers, as dictated by your application.
Step 2
Select the assembly kit that best suits your needs
AR Coatings W/L Range
Part Number
300 to 450 nm
101FRDC01-KIT
450 to 700 nm
101FRDC02-KIT
700 to 1200 nm
101FRDC03-KIT
1200 to 1600 nm
101FRDC04-KIT
The assembly kits include the necessary hardware to mount a filter into the filter oven as well as instructions for assembly. The windows supplied are broadband anti-reflective (AR) coated over the specified wavelength range for an average reflectance of ≤ 0.5% per surface. The substrate material is either Schott BK-7 or Fused Silica, as appropriate, and are polished flat to 1/4 wave and parallel to 30 arc seconds or better.
Contact
Quantum Design
Krivoklatska 37
199 00 Praha 9
Czech Republic