New partnership with Cailabs for the distribution of CANUNDA Beam Shaping Solutions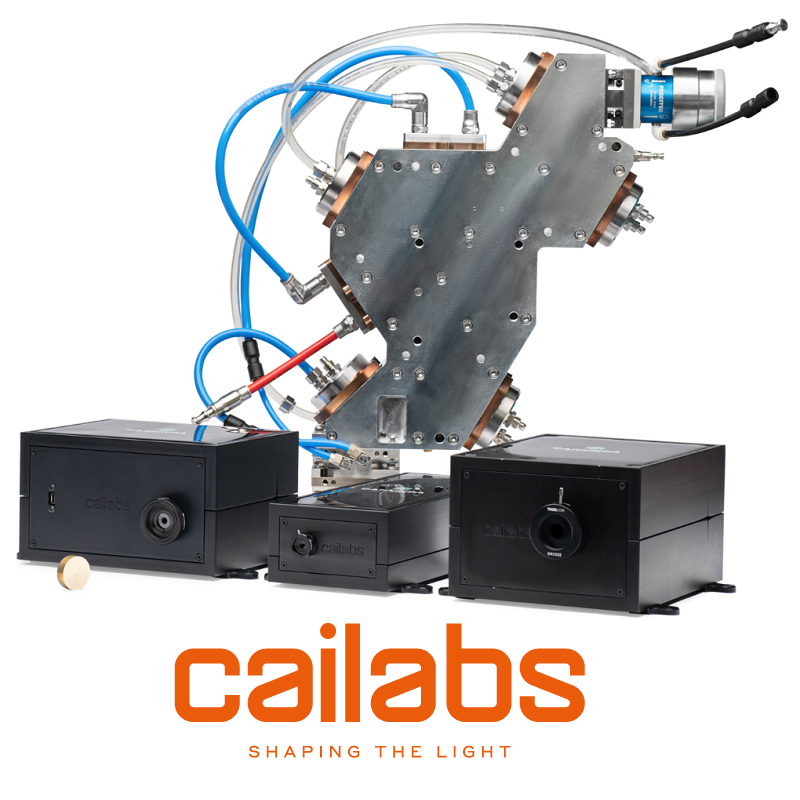 CANUNDA by Cailabs is a beam shaping solution that can significantly improve the quality and efficiency of ultrafast laser manufacturing processes such as laser cutting, drilling, texturing of different materials mostly used by major companies in the field of consumer electronics, implantable medical devices (IMD), watch industry among others. Cailabs also addresses multi kW laser applications targeting metal welding, cutting and additive manufacturing.
Cailabs has recently expanded its CANUNDA product line, that makes it an essential solution on the Italian market since major companies work on these applications in this region and are key targets to Cailabs.
Indeed, Cailabs has developed and introduced solutions to answer all the above-mentioned applications such as CANUNDA-HP for metal welding and cutting, a beam shaping module to provide high-quality ultrashort laser beam shaping named CANUNDA-PULSE, a beam splitting module for improved micromachining efficiency and parallel processing CANUNDA-SPLIT, or a reflective axicon for glass drilling CANUNDA-AXICON. This large product line really is game changer in a fast evolving industrial environment with highly demanding and technological products.
To increase CANUNDA visibility and better address the market in Italy, Cailabs has joined forces with Quantum Design Italy, which will distribute the CANUNDA product line on the Italian territory. Quantum Design counts with focused, committed experts in the field of optics and photonics who are going to bring their technical and sales skills, along with full knowledge and understanding of their market to provide Cailabs' product range with a high-quality local, technical and sales presence.
A perfect match on a key market
Cailabs aims to reinforce itself as a key player in the European and world photonics industry, focusing on innovation with its industry-relevant, flexible cutting-edge technology.
"Quantum Design Italy has many years of experience in the field of optics and measurement serving the Italian market. Naturally, joining forces through this skilled team of experts has imposed as the right choice with regard to our beam shaping modules. Our beam shaping MPLC technology dedicated to ultrafast and especially HP lasers is undoubtedly going to be well exposed with Quantum Design Italy," commented Fabien Ghez, Chief Sales Officer at Cailabs.
"Quantum Design, former LOT-Oriel, is in the photonics market since 1970. In more than half a century we have always bet on companies with the highest development potential to which we could guarantee the growth they deserve. These companies inevitably correspond to those aiming at radical innovation and marking a turning point in their field of application," explained Simone Paziani, Sales Director at Quantum Design.
"Cailabs fits this profile perfectly: a young company with new ideas that aims to change the beam shaping in the laser world. At QD we believe that Cailabs' products will have a great impact," he continued.
DISCOVER THE CANUNDA BEAM SHAPING SOLUTIONS FROM CAILABS! >>
About Cailabs
Cailabs was founded in 2013 and is a French deep-tech company that designs, manufactures and sells innovative photonics products for telecommunications and industrial lasers. A world leader in complex light shaping, its technology is currently covered by 19 patents. Its innovative components are used in various fields, from aeronautical wiring to factory local area networks, including laser manufacturing. They have contributed to several world records (in particular, the fiber optic throughput record held by the Japanese operator KDDI).