The newspaper reports on our construction site
Even though the construction site in Breitwieserweg has been quiet for a while - the construction work continues steadily.
As the Darmstädter Echo also reported at the beginning of May, the earthworks are in full swing. Despite the tense situation in Europe, we are in good spirits and expect to move in next summer.
Preparations are also underway internally: Inventory lists are being updated, decisions for and against taking furniture with us are being made and the first offices are already being decorated in the mind's eye.
The anticipation is palpable everywhere - even if a little patience is still required.
Great joy at the groundbreaking ceremony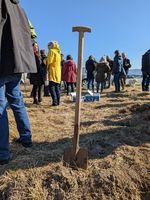 Last Wednesday, the symbolic groundbreaking ceremony for the new building in Breitwieserweg in Pfungstadt took place. Around 30 of the 95 employees took part in the small ceremony. The weather also played along: In beautiful sunshine, people were able to talk shop about the construction plans, the future neighbourhood and the location.
A glass of sparkling wine was served to toast the start of construction together with city councillor Horst Knell, Christine Rühl from the Pfungstadt urban development company and the architect in charge, Jörk Zimmermann.
We hope that this successful start will be representative of the coming construction phases.
Building application approved - time to get started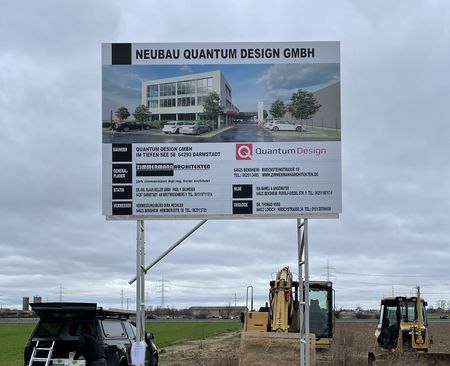 There was good news for Quantum Design Europe last week: The building application for the ground works on the site of the new headquarters was approved. This means that work can finally begin in Pfungstadt near Darmstadt.
So far, only the newly erected construction sign bears witness to what is to come. But the starting signal has been given and the first excavators are ready.
In the coming weeks, the existing undergrowth will be cleared and mulched. Afterwards, almost 2,000 m³ of topsoil will have to be removed before the actual construction work can continue.
Quantum Design moves to Pfungstadt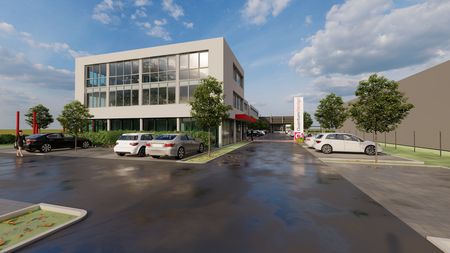 After almost 50 years at our current location in Darmstadt, it is time for a change. In close coordination with our parent company in San Diego, we have decided to pitch our tents 10 km further south in Pfungstadt.
On approx. 8,500 m2 our new headquarters with 2,800 m2 of modern, light-flooded office space and 1,000 m2 of warehouse will be built. We are especially excited about the spacious demo and training areas as an essential basis for the future work and support of our customers.
We will keep you regularly informed here about the progress of our construction project.