Optical Tensiometers / Drop Shape Analyzer / Contact Angle Meters
From Attension
Attension Optical Tensiometers are versatile instruments used in R&D and quality control to characterize material surface properties and interfacial interactions between gas, liquid, and solid phases. We provide Attension Optical Tensiometers for almost all applications and budgets: The entry-level system Theta Lite, the modular and flexible system Theta FLEX with a great variety of options including several levels of automation, topography module or even high-pressure chambers and the user-independent and premium contact angle meter Theta FLOW.
Theta FLOW
Automation at an all-time high
A camera autofocus capability ensure the image to always stay clear, automatic surface mapping, where the sample can be moved into different measurement positions, and automatically generated results with the industry leading OneAttension software are the features bringing automation to a new level for optical tensiometers, simplifying the measurements and increasing accuracy.
Accuracy and user-independence
With a camera resolution at 5 MP, image quality enhancement with DropletPlus technology, and sensors keeping track of the surrounding environment for good traceability, Theta Flow provide highly accurate results. The reliable data, in turn, is a key component for user-independent measurements.
Easy to use with touch display
The touch display improves the user experience making measurement preparation super smooth to handle. Everything from filling the liquids to changing your sample can be done easily at the instrument in seconds.
Theta FLEX
Flexible at its core, this instrument gives plenty of measuring possibilities to match all needs and all budgets as the needs evolve.
High quality imaging is essential for high quality results. Therefore, Theta Flex's camera enable capturing the fastest wetting phenomena up to 3009 frames per second and experiencing the most precise drop shape analyses with 1984 x 1264 pixel resolution.
Innovation and ease of use as key parameters, Biolin Scientific developed several unique features such as the automatic disposable tip dispenser to avoid cleaning or the topography module to measure both contact angle and surface roughness of the sample in a single measurement while calculating the contact angle without the effect of roughness.
Theta lite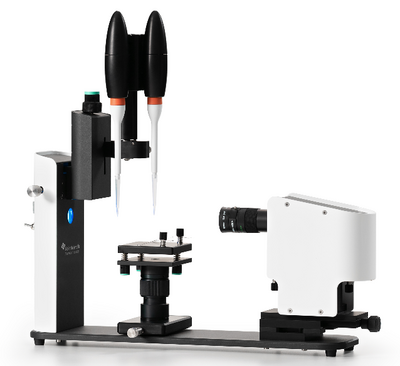 Attension® Theta Lite optical tensiometer is a compact and accurate contact angle meter for simple measurements of contact angle, surface free energy, surface and interfacial tension. It comes equipped with a manual sample stage and deposition system but still offer the possibility to benefit of the smart automatic disposable tip dispenser feature that eliminate the need to clean the dispenser between samples. The Theta Lite is a convenient basic instrument for routine measurements, educational use, and quality control
OneAttension Software:
The OneAttension Software is a fine combination of a very intuitive interface and high functionality. Have a look at the video in the video section.
Contact
Quantum Design GmbH
Meerstraat 177
B-1852 Grimbergen
Belgium