New NanoTest CORE systems – cost-effective indentation, scratch and impact testing instruments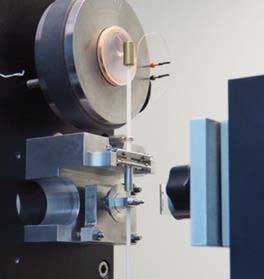 The new test instruments of the CORE series from Micro Materials have been designed for academic and industrial high-end research and development laboratories. They come at an affordable price and are thus particularly suited for repetitive industrial QC applications.
The CORE series consists of compact test systems optimized for easy and intuitive operation while maintaining the high data quality and stability Micro Materials have been known for over the past 25 years. Contrary to ol­der instruments, CORE systems have been specially developed to perform one single mechanical type of test only. Currently it comprises the following models:
CORE Nanoindentation
CORE Microindentation
CORE Nano scratch tester
CORE Micro scratch tester
CORE Nano impact tester
All nano systems feature a wide force range of 10 µN to 500 mN, micro systems have a range up to 30 N.
This exceptional measurement precision and stability is rare with microindenters and micro scratch testers. It allows the accurate characterization of hardness and elastic modulus and the determination of adhesion and coating failure over a wide range.
With the new nano impact tester we now provide an autonomous nanomechanical counterpart to the pendulum impact tester.
Its main feature is the determination of dynamic hardness, information on impact attenuation and energy balance and a "time-to-failure" analysis in the repetitive impact mode.
All CORE systems comply with industrial standards like ISO14577, ASTM E-2546, ASTM 7187-10 and ASTM 7027-05.