Cryogen-free optical cryostat with 7-Tesla field
OptiCool from Quantum Design
The OptiCool is a low-temperature, high-magnetic field platform from Quantum Design. The cryogen-free cryostat is mounted on an optical table and can easily be integrated in a variety of optical experiments. Optical access to the sample is available through seven side windows and one top window. The sample area is remarkably large with a diameter of 89 mm and 84 mm in height. The sample is in the center of the magnetic field and all possible optical ray tracks. Thanks to its special design, the mechanical vibration on the sample is only a few nanometers.
Features
Temperature range: 1,7 K to 350 K
7 T Split-Coil Conical Magnet
Automated control of temperature and magnetic field
Low Vibration: <10 nm peak-to-peak
89 mm x 84 mm Sample Volume
Cryogen Free
Sample Pods
The OptiCool's Sample Pod provides a place to build and customize your experiment on the bench. When you are ready to make a measurement, the Sample Pod easily plugs into the pre-wired temperature control column. Having multiple experiments arranged on multiple pods allows you to switch experimental hardware quickly. Sample Pods are available in both a standard configuration and a large-volume configuration depending on the experimental needs. Each type of pod can be further configured by changing the riser pieces (available in three lengths; included with the system) to adjust the height of the mounting plate.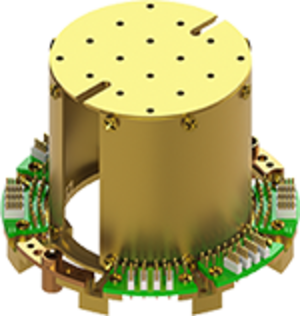 Standard Sample Pod – Allows for mounting plate positions from 56.4 mm to 12.4 mm below the magnet center.
Large-Volume Sample Pod – Allows for mounting plate positions from 131 mm below to 87 mm below the magnet center.
Wiring
The OptiCool can be custom configured with three different types of wiring assemblies. Each cryostat can have up to 5 wiring assemblies pre-installed. The wiring assemblies present the necessary connectors to make contact to the pod and take care of thermal lagging, necessary to reach base temperature.
Sample Wiring – Each sample wiring assembly contains eight twisted pairs for a total of 16 wires. Four 4-pin connectors are presented on the pod to make contact to your sample.
Positioner Wiring – The positioner wiring assembly is designed to be compatible with attocube piezo positioner stacks. Each assembly has enough wires to run up to 3 different axes of motion with the RES position feedback. If position feedback is not required, the feedback wires can be repurposed to run an additional 3 axes of motion. Contact Quantum Design for more information.
RF Coax Wiring – The RF coax wiring assembly contains four coaxial cables capable of carrying high frequency signals up to 20 GHz.
Positioning and Microscopy
Many optical applications require precise positioning of the sample to the optical path for focusing or examination of an area of interest. The ability to scan the sample is also required for 2D imaging of sample properties. To meet these needs the OptiCool cryostat can be configured with a piezo-based nanopositioning stack to move your sample in situ. The nanopositioner option comes with all the adapters needed to mount the nanopositioners onto a pod, specialized cryostat wiring, and cabling that can connect to the piezo controller. The nanopositioner stack can be mounted on the standard pod or on the large-volume pod depending on experimental needs.
Many experiments require a high-quality, high-NA objective. To address this need, Quantum Design offers a field-compatible Zeiss 100x LD EC Epiplan-Neofluar, infinity-corrected objective. With a 0.75 NA and a free working distance of 2 mm between your sample and the cold shield aperture, the optics are maintained in vacuum at room temperature to provide the optimal environment to take full advantage of this objective's high performance design.
MOKE / CryoMOKE
Raman / FTIR Spectroscopy
Photoluminescence
UV / VIS Reflectivity & Absorption
AFM / Microscopy
NV / Color Defect / Vacancy Centers
Nanomagnetism
Time Resolved Magnetic Spectroscopy
Quantum Optics
Spintronics
OptiCool® — Introduction Video
Swapping Out Sample Pods in Quantum Design's OptiCool
Changing Windows in Quantum Design's OptiCool
Dynamics and Control in Quantum Materials- Richard Averitt, UC San Diego
Probing spin dynamics in InSe with time-resolved Kerr rotation-Jovan Nelson, Northwestern University
OptiCool® Testimonial — Richard Averitt
Contact
Quantum Design
Krivoklatska 37
199 00 Praha 9
Czech Republic