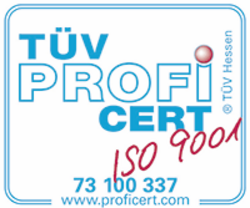 Our sales, service and quality management systems were extensively reviewed by the German Technical Supervisory Society of Hessen (TÜV-Hessen) and found to be conform with the ISO 9001 quality management systems standard.
Our principal goal is to build long-lasting customer relations. To achieve this,
we sell state-of-the-art products of the highest quality which meet the market requirements.
work in close cooperation with customers and manufacturers to assure that the customers' needs and requirements are always met.
provide application-oriented high-expertise technical advice by our highly qualified sales experts.
We will continue to improve our quality standards even further, but to do this, we need your help. Please contact us with any questions, comments or criticism you might have. You can either contact your Product Manager or us directly. If ever anything is not to your complete satisfaction, let us know and we will take care of it immediately.
Sincerely,
Dr. Jürgen Schlütter,
(Managing Director)