Nuovi sviluppi della microscopia a catodoluminescenza
Ci sono tre direzioni principali in cui la microscopia a catodoluminescenza progredisce:
correlare la CL in un modo inedito con altre tecniche
aumentare le prestazioni, nonché analizzare la CL in modi nuovi
automatizzare i processi (per esempio, l'acquisizione e l'analisi dei dati)
Una delle tecniche più recenti che è stata introdotta l'anno scorso è l'imaging CL per la mappatura del profilo angolare a determinate energie attraverso la scansione di un sistema di lenti [1]. In questa tecnica è avanzata la risoluzione spettrale dell'imaging risolta in angolo. Questa tecnica permette di acquisire sia in alta risoluzione ed ottenere informazioni angolari, che possono essere particolarmente preziose nel campo della nanofotonica e dei semiconduttori nanostrutturati.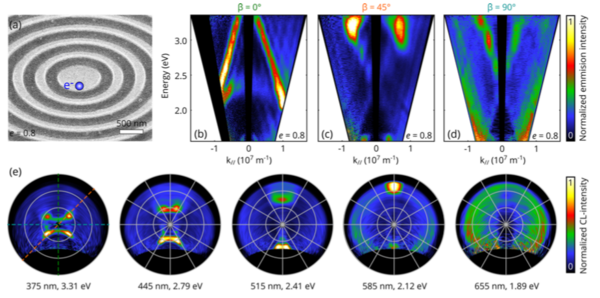 Un'altra tecnica sviluppata di recente permette di misurare la fase. Questa tecnica è stata sviluppata e pubblicata da gruppi provenienti dal Giappone e dai Paesi Bassi [2,3]. Utilizzando la polarimetria, è possibile misurare lo stato di polarizzazione della luce (ad esempio lineare o circolare), ma non è possibile dedurre direttamente la fase assoluta di un fronte d'onda. Per superare questo problema, le pubblicazioni propongono di utilizzare la radiazione di transizione da un campione come sorgente di riferimento per eseguire l'olografia CL.
Un altro campo in cui sono stati fatti molti progressi di recente è l'imaging CL risolta in tempo. Con questa tecnica è possibile eseguire già oggi la tracciatura del decadimento, l'imaging g(2) (con il modulo LAB Cube) e il conteggio a singolo fotone correlato al tempo. Anche i più recenti sviluppi della CL risolta nel tempo consentono di eseguire il lifetime imaging iperspettrale con la streak-camera e di eseguire l'imaging CL pump-probe.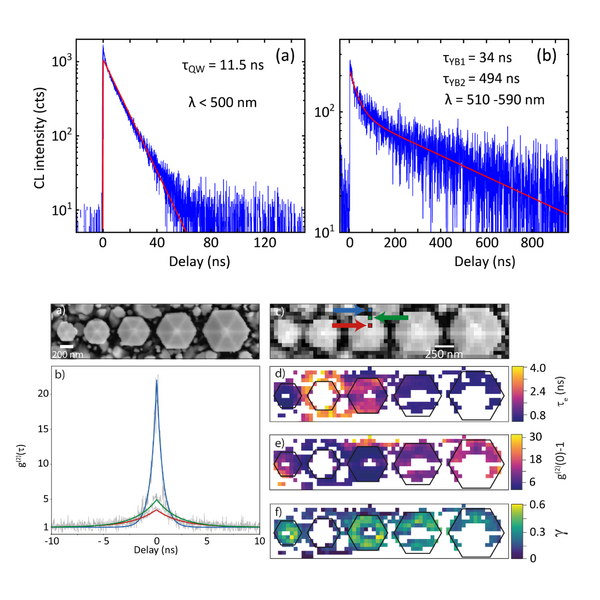 Il passo successivo per far progredire la tecnica è una migliore automazione, che può essere usata per l'analisi dei dati, il funzionamento del sistema e l'allineamento e l'acquisizione dei dati. In particolare, l'acquisizione automatizzata è molto utile per l'acquisizione di grandi set di dati.
Infine, Delmic sta attualmente lavorando ad un nuovo sistema di catodoluminescenza da banco, che sarà disponibile per una vasta gamma di utenti. Condivideremo ulteriori informazioni su questo sistema nel 2021, quindi rimanete sintonizzati!
Maggiori informazioni sui sistemi per la Catodoluminescenza
Riferimenti
[1] Energy-Momentum Cathodoluminescence Imaging of Anisotropic Directionality in Elliptical Aluminum Plasmonic Bullseye Antennas, T. Coenen et al. ACS Photonics 6, 573-580 (2019)
[2] Cathodoluminescence Phase Extraction of the Coupling between Nanoparticles and Surface Plasmon Polaritons. T. Sannomiya et al. Nano Lett. 20. 592-598 (2019)

[3] Phase-Resolved Surface Plasmon Scattering Probed by Cathodoluminescence Holography. N. Schilder et.al. ACS Photonics 7, 1476-1482 (2020)
Contact
Quantum Design s.r.l.
Via Francesco Sapori, 27
00143 Roma
Italy