WITec Suite SIX – Data Acquisition and Analysis for WITec Correlative Microscopy Systems
Suite SIX is the newest version of WITec's integrated software environment for instrument control and data analysis.
It features an intuitive operating concept for all WITec instruments, including Raman imaging, AFM and SNOM microscopes of the alpha300 series, as well as RISE (Raman-SEM), profilometry and time-correlated single photon counting (TCSPC) for fluorescence lifetime imaging (FLIM) or antibunching experiments.
WITec Suite SIX enables researchers to move from setup to results with unprecedented ease. One integrated software manages the entire experiment, from initial settings and data acquisition through post-processing. Basic and advanced data analysis features accelerate the generation of high-quality images. The modular architecture of WITec's software and hardware lets users quickly configure their instrument for each specific task.
Key Features
One integrated software suite for instrument configuration, data acquisition and post-processing for all WITec microscopes
Intuitive and tactile operation of hardware and software with the EasyLink handheld controller
High-speed acquisition of large data volumes
Multi-user management for defining access rights associated with each user account.
Setup configuration library for recurring tasks
Guidance through all steps of data processing and image generation (Software Wizard)
TrueOrigin portable coordinate system for easily locating the same sample area on different microscopes.
Overlay of images from different measurements for correlating, for example, Raman chemical information with surface information from SEM, AFM or TrueSurface profilometry
Advanced image post-processing functions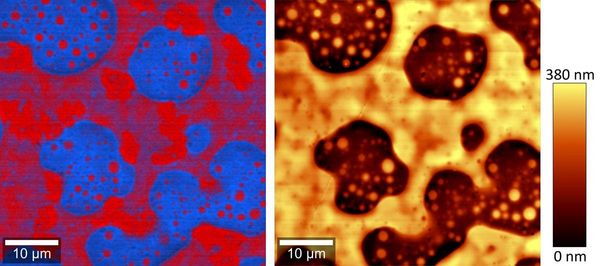 Raman image (left) showing the phase separation in a blend of PMMA (red) and PS (blue)
AFM topography image (right) of the same sample area.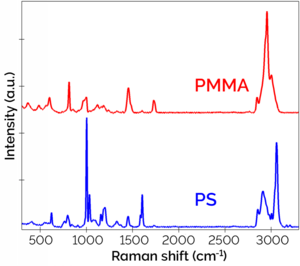 Raman spectra of PMMA (red) and PS (blue).
Overlay of the AFM topography and Raman image, relating structural and chemical information.
The complete WITec Software Packages suite
The WITec Suite SIX software package includes:
Control SIX: instrument configuration and high-speed data acquisition
Project SIX sophisticated data evaluation and processing
Optional and compatible software packages includes:
Project SIX+: additional features for data evaluation and processing
TrueMatch: Raman spectral database management software
ParticleScout: Raman-based microparticles analysis (find, identify and quantify particulate sample components)
Multi-user management option: define functionalities and data access rights for individual user accounts in order to comply with good practice (GxP) guidelines and regulations (such as the US Food and Drug Administration's (FDA) 21 CFR Part 11).