Magnetische Hyperthermie – Magnetismus trifft auf Biologie und Medizin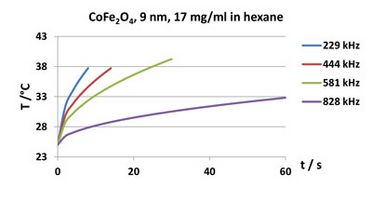 Im Juni diesen Jahres fand in Dresden die "International Conference on the Scientific and Clinical Applications of Magnetic Carrier" statt und wir stellten das Hyperthermie-System von unserem Partner Nanoscale Biomagnetics vor, das auf großes Interesse stieß.
Hyperthermie ist ein Begriff aus der Medizin. Es geht um eine Überwärmung des Körpers oder lokaler Bereiche. Eine künstlich erzeugte Überwärmung (Therapeutische Hyperthermie) wird beispielsweise in der Behandlung von Krebserkrankungen angewendet.
Seit kurzem sucht eine Art der Hyperthermie – nämlich die magnetische Hyperthermie – ihren Weg in die Medizin. Es scheint, als habe diese Art der Temperaturerhöhung gewisse Vorteile. Doch was ist magnetische Hyperthermie überhaupt? Hierzu werden magnetische Nanopartikel zum Beispiel aus Eisen- oder Kobaltoxid einem magnetischen Wechselfeld ausgesetzt. Die Nanopartikel wandeln Energie des Feldes in Wärme um. Zumindest in der Theorie, denn es gibt Versuche, die zeigen, dass der gewollte Effekt – die Nekrose bestimmter Zellen – auch ohne eine deutliche Temperaturerhöhung erfolgt.
Die Mechanismen die dahinter stehen sind noch nicht verstanden. Wie auch immer, die Idee, gezielt und selektiv Zellen abzutöten lässt Biologen und Mediziner aufhorchen. Mit dem Hyperthermie-System DM100 steht ein "plug-and-play"-Gerät für verschiedene Fragestellungen zur Verfügung. Man muss sich nicht um die apparative Seite kümmern, sondern kann seine Proben einfach und schnell messen. Einstellung der Feldparameter und die exakte Messung der Probentemperatur übernimmt das DM100. Bei dem Design des DM100 wurde ein besonderes Augenmerk auf die Details verwendet. So erfolgt die Temperaturmessung mit einer optischen Faser und die Spule, die das Feld erzeugt ist so konstruiert, dass sich die Probe in einem besonders homogenen Feldbereich befindet.


Kundenzitat:
"We have a DM100 in our laboratory. Its fully-programmable measuring setup allows us to have a full characterization of samples in a single-shot experiment. With the data from this system we receive new insights into the mechanism of magnetic hyperthermia on Nanoparticles and were able to publish several papers."
Dr. Gerardo F. Goya Rossetti, Instituto de Nanociencia de Aragón (INA), Universidad de Zaragoza
Dr. Marc Kunzmann
Product Manager - Cryogenics & Materials science
more about
Dr. Marc Kunzmann
Newsletter registration