New UV radiometer for dosimetry – ILT800 CureRight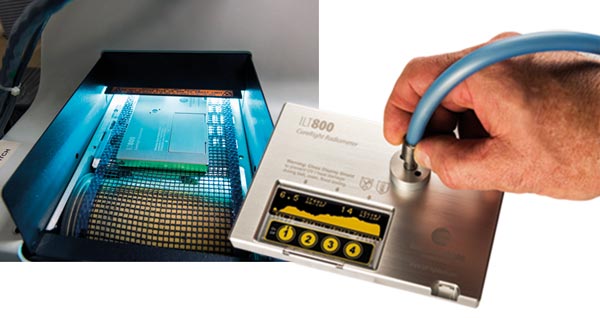 The new software incorporated in the ILT800 radiometer series allows the internal storage of up to 1000 measurements. Data is transferred by USB interface. It can be fully controlled with only four buttons. Profile, dose (J/cm²) and irradiance peak (W/cm²) are graphically displayed directly after the measurement.
Advantages
ILT800 is the only radiometer with Device ID software which allows users to program up to 20 unique system/source information units.
Users may thus store and export UV measurement baselines and historical data for all their curing stations in just one device.
Measurements can be fitted to the individual process by adapting the Auto, Manual and Live settings.
ILT800 Applications
We offer different types for different application areas.
Industrial applications include inert UV curing of laminates, plastic foils and adhesives. Medical applications include monitoring UV lamp dose during UVC disinfection (surface disinfection) and light therapy.
The new ILT800 radiometers can be used whenever production processes place high demands on the coating, refining and disinfection of surfaces.
Uwe Schmidt
Product Manager - Light & lasers
more about
Uwe Schmidt
Newsletter registration