OCT – tomography for spheroids and organoids
In tomographic procedures, electromagnetic radiation penetrates a test object.
The modified beam allows the analysis of the object in the three spatial dimensions.
The Cell3iMager Estier is an optical coherence tomography (OCT) system that enables the non-invasive analysis of organic 3D structures (including spheroids, organoids and tubular structures) with infrared light. OCT is a useful platform to visualize the in vitro dynamics of 3D structures. This makes it a great method for obtaining quantitative information on morphological changes that occur in 3D cell culture samples.
As label-free imaging method, OCT is also well suited for tracing drug effects, for example in microtiter plates (penetration depth of the signal can be up to 1 mm). Necrotic regions can be recognized and quantified by measurements, just like the volume and surface of the object, internal voids or tube-like structures.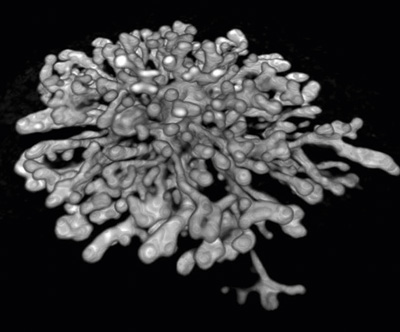 In ophthalmology, optical coherence tomography is already well-established as versatile imaging method, especially for retina analysis. OCT uses low-coherence interferometry to capture 2D cross-sectional images of the optical scattering from within the micro structures of tissue. 3D tomography can then be reconstructed from these 2D images. OCT also allows the imaging of very thick samples (<1 mm). In research and development, however, OCT methods are not yet very common. So far, there are only a few systems which are suitable for microtiter plates and cell culture dishes and which provide a µm resolution at the same time.
Cell3iMager Estier now fills this gap!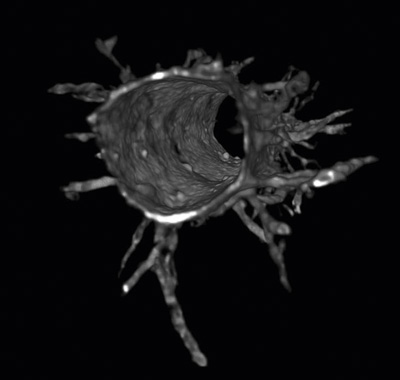 A demo system is available for sample measurements at our laboratory in Darmstadt. Come and see for yourself!
Check out interesting publications: