Electrospinning and electrospraying equipment
from Bioinicia
Electrospinning and electrospraying are scalable, room-temperature processes used to create micro- or nano-structured materials and coatings from an unlimited range of functional materials that includes polymers, proteins, bioactive ingredients and inorganics.
The Fluidnatek range of electrospinning equipment from Bioinicia produces scalable, high-quality and homogeneous micro- and nano-structured fibers and particles for a wide range of applications.
This premium range of customizable electrospinning equipment offers the highest level of precision and control with its best-in-class climate-control modules to enable efficient manufacture of reproducible products for the most demanding applications. All platforms are highly modular and adaptable with a wide array of features that can be upgraded at any time. The Fluidnatek portfolio ranges from lab-scale bench-top equipment for R&D and proof-of-concept activities to industrial-scale automated.
Features
Safe and efficient equipment.
Range of equipment to suit all budgets.
Versatile and adaptable platforms that can be configured for specific applications.
Offers unbeatable reproducibility and scalability.
Engineers on-hand to custom-develop novel features.
Bioinicia is the world's first cGMP and ISO13485 certified industrial-scale manufacturer of electrospun products for pharmaceutical and medical applications. This brand offers excellent customer support services that include consultation, training, installation, equipment qualification, performance qualification and effective technical assistance any time, either remotely or on-site. All equipment is CE certified and UL compliant.
Fluidnatek LE-10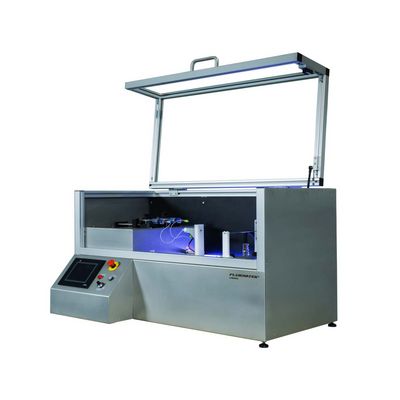 Bench-top equipment for materials R&D and proof-of-concept.
The Fluidnatek LE-10 allows you to investigate the electrospinning and electrospraying processes and to prototype new materials concepts.
Easy to use
Compact design for small laboratory spaces
Integrated touch-screen control with data-logging function
Single-phase and core-shell structured fibers and particles
Safety shut-off switches in access doors
Fluidnatek LE-50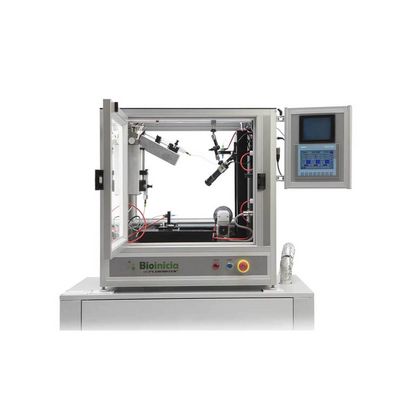 Advanced bench-top equipment for when control is critical
Ideal for proof-of-concept activities and small-scale manufacture. The Fluidnatek LE-50 electrospinning unit is a compact, easy-to-use bench-top unit with advanced features and climate control options.
Intuitive touch-screen control with data-logging and process parameter storage
Independent temperature and humidity regulation and display
Simultaneous spinning/spraying of two materials
Scalability for efficient processing
Suitable for cleanroom environment
Fluidnatek LE-100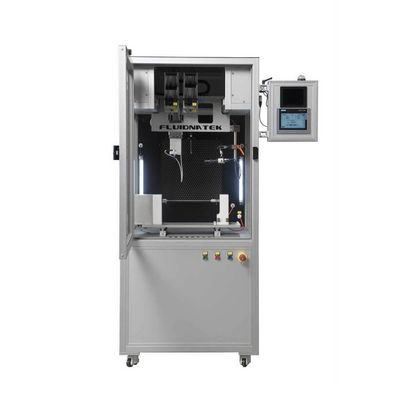 Adaptable system for advanced development and complex manufacturing
The Fluidnatek LE-100 is the ideal equipment for researchers and companies with complex requirements, whether that is processing of multiple materials, novel structures, complex geometries, or the highest level of process regulation and control.
The Fluidnatek LE-100 allows for ultra-clean manufacturing of high-value particles and complex 3D-shaped fiber constructs of particular interest to the biomedical and pharmaceutical industries. It is currently used by several biomedical companies for the manufacture of clinical products.
High-performance temperature and humidity regulation
ISO certified cleanliness levels
Programmable x,y,z axes motion for patterned deposition
Multiple HV power supplies for complex configurations
Highly adaptable for process-specific configuration
Real-time deposition thickness metrology
Remote diagnostics and software upgrade
Full data logging, batch control and process parameter storage
Fluidnatek LE-500
Pilot-production plant for semi-continuous manufacturing
The Fluidnatek LE-500 is Bioinicia's largest standard platform and is designed for those customers needing to demonstrate the scalability of their electrospun sheet materials or electrosprayed particles.
High-throughput spinning heads
Large-volume semi-continuous solution feeding
Interchangeable rotating collector and roll-to-roll collection modules
High-performance temperature and humidity regulation
High level of automation to enable continuous >24h manufacturing
Real-time deposition thickness and/or mass metrology modules
Full data logging, batch control and process parameter storage
FLUIDNATEK® LE-10 Electrospinning equipment by Bioinicia
FLUIDNATEK® LE-50 Electrospinning equipment by Bioinicia
FLUIDNATEK® LE-100 Electrospinning machine by Bioinicia
FLUIDNATEK® LE-500 Electrospinning equipment by Bioinicia
Contact
Quantum Design GmbH
Im Tiefen See 58
64293 Darmstadt
Germany